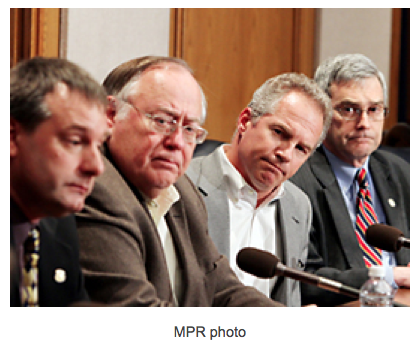 The scandal plagued Republican State Senator from Eden Prairie, David Hann, was elected by his fellow Senate Republicans to lead their Caucus as Minority Leader. No surprise there! Beginning in January 2011, when the Senate Republicans took over, it has been scandal after scandal after scandal by these Republican scoundrels.
The latest scandal coming from these State Senate Republicans has to do with their newly elected leader, David Hann, and it has to do with a conflict of interest and his perceived cover up of it. Boiled down, it is in essence: who does Hann work for, what does Hann do, and when did Hann start doing it?
And Hann ducked the only major news outlet in the Metro – Tom Lyden of Fox9 News – that picked up on this scandal. To be fair, MinnPost picked up on Fox9 picking the story up. Everybody else? Cue the crickets!
Now, when Hann's fellow campers in the scandal plagued Republican Senate Caucus elected him, they also sent out a Press Release describing Hann as follows:
"Senator Hann was elected to his fourth term in the Senate earlier this week. He was first elected in 2002. Prior to his service in the Senate, Hann was elected three times to the Eden Prairie School board where he served as clerk and treasurer. He was also employed at E. A. Sween Co. (Deli Express) for 22 years, where he served in several capacities including Director of Forecasting and Logistics."
What we've found since the Hann Scandal first broke is that Hann is now a licensed insurance agent, works for an insurance company (Boys And Tyler), and serves on the Board of Directors of an insurance industry trade group (Minnesota Association of Health Underwriters).
To no surprise, no mention of what has come to light about Hann (not the industry, nor the company, nor his job, nor his trade association position), in the Senate Republican Caucus' press release, announcing and describing their newly elected fearless leader's new job – Minority Leader.
During his recent campaign, David Hann clearly demonstrated he did not believe the public deserved to know his source of employment. Based on the press release by the Republican Senate Caucus he now leads, they don't think so either.
***
Photo Credit to Minnesota Public Radio for the image above – which pictures the so-called Gang Of Four at the infamous December 2011 Press Conference.
Previous coverage of Hann's ongoing scandal follows:
"Republicans pick the most corrupt Senator to lead them, David Hann" — Friday, November 9th, 2012
"More Questions For The List Of Questions David Hann Hasn't Answered" — Thursday, November 8th, 2012
"GOP State Senator David Hann Endorsed For Re-Election – By His Boss" — Tuesday, October 30th, 2012
"BREAKING: David Hann On Board Of Directors For Trade Association He Oversees — Monday, October 29th
"BREAKING: David Hann Scrubs His Website, or: "Let The WhiteWash Begin!" — 9:35 pm, Friday, October 26th
"TV station sees conflict of interest for Sen. Hann, others" — 2:12pm, Friday, October 26th
"Fox9 News Scandal Coverage: "What does Sen. David Hann do for a living?" — 10:41am, Friday, October 26th
"What does Sen. David Hann do for a living?" — 7:55pm, Thursday October 25th
"When is a Conflict of Interest, a Conflict of Interest? You Decide." — Thursday, October 25th, 2012
"Conflict of Interest? David Hann, GOP Health Insurance Salesman" — 5:00am, Thursday October 25th, 2012
*** related, but not directly:
"Minnesota Senate Republicans Are Out Of Control" — Friday, November 2nd, 2012
"Brodkorb Fallout: Consider The Source" — Monday, October 15th, 2012
(cross posted at MnProgressiveProject; comments welcome there)