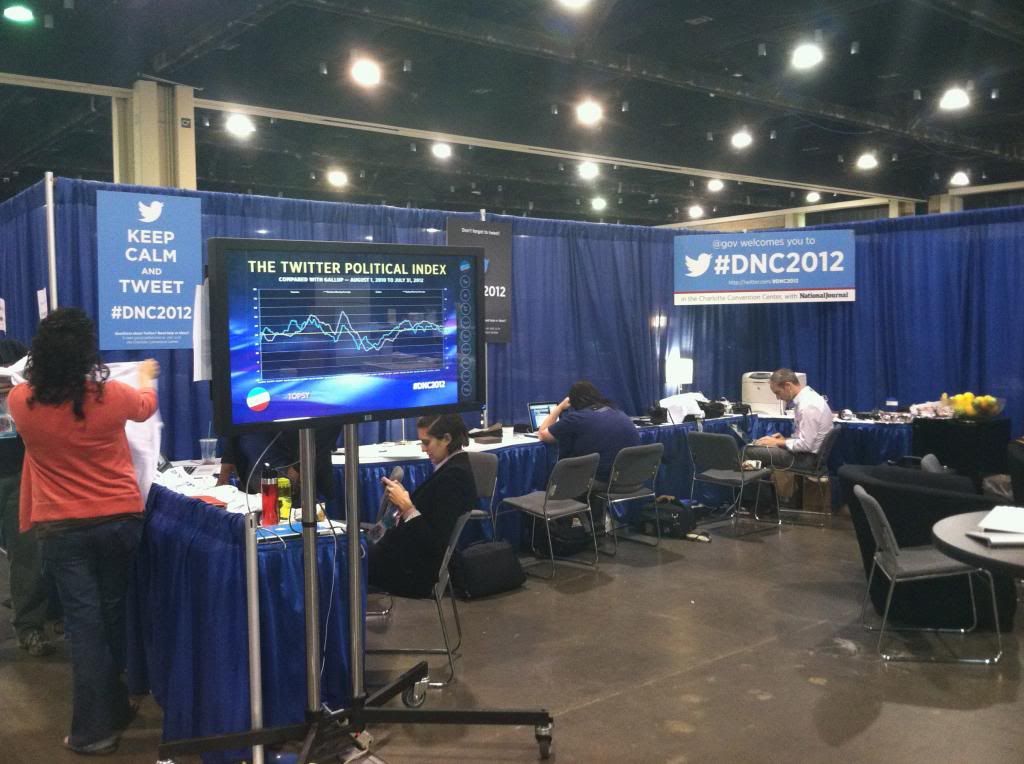 Regular Readers will probably remember yours truly, the ol' TwoPutter, had media credentials for the Democratic National Convention in Charlotte. And we had a LOT of fun covering Charlotte 2012, beginning with finding fake lemons in the tree outside of failed Veep Candidate Paul Ryan's WI Office. While in the media area of Charlotte 2012, I happened across the Twitter Office of, well, Twitter – picture to the right.
So I stopped to talk to the nice people at Twitter, and asked 'em how yours truly, the ol' TwoPutter, could get one o' those elusive, but coveted, blue checkmarks for my Twitter account – signifying a Twitter "Verified Account". There's a screenshot, below, on what these check marks look like.
Here's what Twitter says about 'em:
What kinds of accounts get verified?

Twitter proactively verifies accounts on an ongoing basis to make it easier for users to find who they're looking for. We concentrate on highly sought users in music, acting, fashion, government, politics, religion, journalism, media, advertising, business, and other key interest areas. We verify business partners from time to time and individuals at high risk of impersonation.

We do not accept requests for verification from the general public. If you fall under one of the above categories and your Twitter account meets our qualifications for verification, we may reach out to you in the future.(emphasis added)
I figured it'd be a slam dunker; there I was with the media credentials, and I already had worked with Twitter to get a few nasty fake twitter accounts (stuff)-canned that had been causing problems for yours truly, the ol' TwoPutter.
So when I asked the nice person at Twitter, in the media area, at Charlotte 2012 about it, the nice person handed me off to another nice person working for Twitter – in sales.
Yes, "sales." And here's what I was told:
For most folks, it takes dough to get one of those elusive, but coveted, blue check marks that indicate a "verified account;" a blue check mark like you see to the right on a screen shot of Minnesota Supreme Court G. Barry Anderson's Twitter account.
How much dough, I asked. $15,000.00 was the answer; but not necessarily all at once – it could be spread out over a couple of months. I explained I had read the Twitter "Verified Account" policy; it seemed I qualified for a freebee for two reasons (as outlined above). Reply? Nope. Cash. Well, it was also explained that if someone who was already spending dough on Twitter ads and promoted tweets, etc already had one, Twitter often gave one o' those elusive but coveted check marks to a friend/associate/whatever of one of said spenders as a comp.
I checked around with a few media types in the media areas while in Charlotte, and heard in essence: yep, that's how the "Verified Account" game was played. Did a little digging on google too. No biggie; if that's the way the game was played and since I didn't have – let alone plan on spending – $15 biggies, no blue check mark for yours truly, the ol' TwoPutter.
Fast forward to October 8th, 2012, and a story by Strib Reporter Rachel Stassen-Berger: "Promoted Justice On Twitter". Rachel writes about the blue "verified account" check mark that's shown on the screen shot you see just a little bit above on the Twitter Account of G. Barry Anderson, running for re-election for his seat on the bench on Minnesota's Supreme Court.
Here's Rachel's lede:
Supreme Court Justice G. Barry Anderson may be making history, 140-characters at a time.

The justice, first appointed to the high court by Gov. Tim Pawlenty in 2004, is using promoted tweets to advance his campaign to stay on the court. He is among the first prominent Minnesota politicians to use promotion, Twitter's version of online advertising, in his campaign. (emphasis added)
Rachel also noted that Justice Anderson's Digital Director is the Justice's son, Grant Anderson. Noted now is that Justice Anderson's campaign web page is credited, on the web page, to Election Energy.
Didn't think much of Rachel's story, at the time. And pretty much forgot about it, until I saw and retweeted the tweet to the right. OK, a lot has been said by a lot of people about Michael Brodkorb – including by me – for, ahem, "a variety of reasons."
One thing a lot of people that have said a lot about Michael Brodkorb also say is that when it comes down to political skills and instincts, it pays to pay attention to Michael Brodkorb. So if Michael thought "the campaign spending & contribution report" of Supreme Court Justice G. Barry Anderson was "interesting" – well, yours truly, the ol' TwoPutter, pays attention.
And said report is indeed interesting – and we'll get to what yours truly, the ol' TwoPutter has found.
So – stay tuned!!!
(cross posted at MnProgressiveProject; comments welcome there)