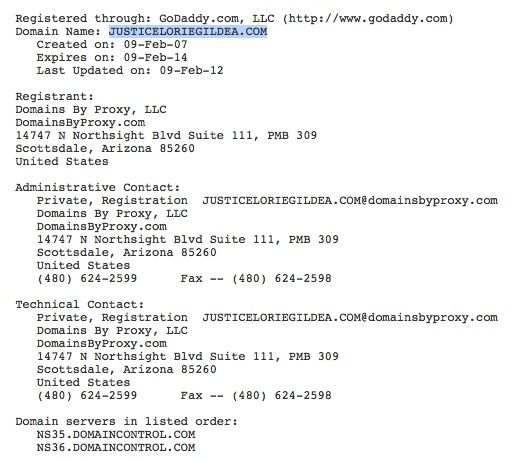 Last week, we discussed Verified Twitter Accounts – specifically, that Minnesota Supreme Court Justice G. Barry Anderson had one, and we were looking at his re-election Campaign Finance Reports. And we are; stay tuned for what's turned up! While doing so, we also took a look at two of the other candidates for re-election to the Supreme Court – Justice David Stras, who also had a Twitter Verified Account, and Chief Justice Lorie Gildea, who didn't. Something stuck out while going through Chief Justice Gildea's reports – by omission.
Everybody these days has a campaign web site; candidates for State Supreme Court being no different. And as anybody that's ever set one up knows, they cost dough. Pick a domain name, register it, build the website, host it… Well, picking the name is free. Registration and building a website and hosting it? Not so much. The image, above, is from 2007, back when Pawlenty Appointee Justice Gildea first ran for re-election; the domain for the website is www.JusticeLorieGildea.com.
A review of Justice Gildea's Campaign Finance Reports for 2007 does not show an expenditure nor an in-kind donation for any of that. Nor does her 2008 Report. Clearly it's there; registered 09 Feb 07.
Fast forward to February 2012, and the image to the right. It's the "Who Is" Domain Registration (www.ChiefJusticeLorieGildea.com) information for the Pawlenty appointed Gildea, who is now running for re-election for Chief State Supreme Court Justice.
On Chief Justice's campaign website, the disclaimer on the bottom reads "Prepared and paid for by Minnesotans for Chief Justice Gildea, P.O. Box…"
Yet again, a review of Chief Justice Gildea's Campaign Finance Reports for 2012 does not show an expenditure nor an in-kind donation for the new campaign website domain. Nor for building a new website, nor for hosting a website.
If there is anyone who's campaign finance reports should be squeaky clean and transparent, it's a judge running for re-election – especially the judge running to retain the seat for Chief Justice of the State Supreme Court.
An email and phone call for an explanation to the Campaign Treasurer for both campaigns have not been returned.
(cross posted at MnProgressiveProject.com; comments welcome there)