Last week, we discussed Verified Twitter Accounts – specifically, that Minnesota Supreme Court Justice G. Barry Anderson had one. On Monday, we looked at Chief Justice Lorie Gildea's expenses on her Campaign Finance Reports ("CFB") for her campaign website – well, specifically, the lack thereof.
Today, we're going to look at website expenses for the campaign of Supreme Court Justice G. Barry Anderson – and several other prominent Republicans. We'll start with one such prominent Republican, the soon-to-be former GOP Senate Caucus Leader Dave Senjem – a screenshot from Senjem's CFB report is above. On Sen Senjem's CFB report, you'll note the expenses of $250 and $12 on 31 July and 17 September 2012 for website related fees to "Election Energy" to a street address in Apple Valley. That street address matches the address listed which was found during a Domain Search for www.ElectionEnergy.com; link to screenshot here.
Justice G. Barry Anderson also used Election Energy as a vendor; on his latest CFB report it's his largest vendor – accounting for almost 30% of his campaign's expenditures (almost $19k). Except, on Anderson's CFB report, there's a different address for Election Energy; it's listed as a P. O. Box.
Hmmm…. Time to check property tax records for the address reported by Senjem's campaign! And what do we find? It seems the address used by Senjem, and NOT used by Anderson, is owned by: "Grant B. and Louise H. Anderson".
Sources have confirmed the address used by Senjem, but NOT by Anderson, is indeed Justice G. Barry Anderson's home.
Of course, it's possible that "Election Energy" – using a business address of State Supreme Court Justice Grant B. Anderson, who goes by "G. Barry Anderson" – isn't owned by Justice Anderson; it's possible it's owned by his son, Grant Anderson, who is acting as Justice Anderson's digital director.
Better check with the Secretary of State's Office, and find out who is the registered owner(s) of "Election Energy"!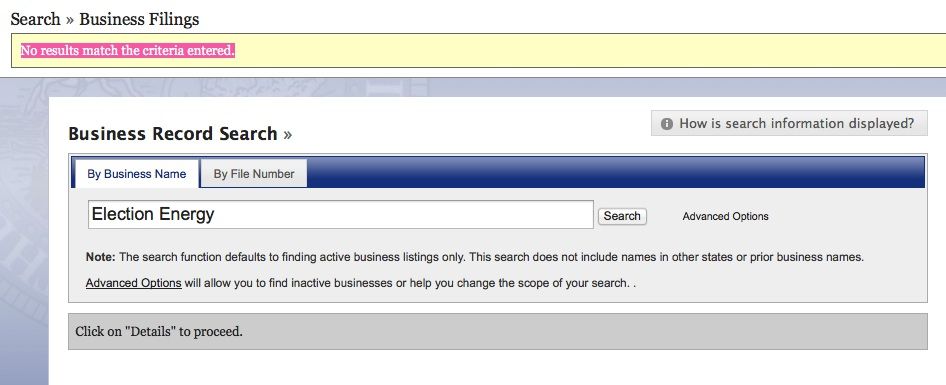 Hmmmm….. An on-line search, via the Secretary of State's office reveals: "No results match the criteria entered.". Hmmm, maybe I'm doing something wrong? No, said the nice person at the Secretary of State's Business Services Section – they couldn't find any record of registration either.
Does a website company that's physically located in Minnesota, has customers in Minnesota, and is soliciting for more business need to be registered? Well, according to the nice person at the Secretary of State's office, who did NOT know the nature of the people involved – a sitting State Supreme Court justice, for one – said while not an attorney, it appears that under statutes 303 and 331 – the short answer is yes.
To recap: what we appear to have is an unlicensed business being run out of the home of a Supreme Court Justice that has said Justice as a customer. Additional customers include current GOP Senator Senjem, former GOP State Rep Keith Downey, soon-to-be GOP House Minority Leader Kurt Daudt, and fellow Supreme Court Justice David Stras, whose campaign sent $5,000 to Election Energy's P.O. Box.
Here's what I wrote in the post about Gildea:
If there is anyone who's campaign finance reports should be squeaky clean and transparent, it's a judge running for re-election – especially the judge running to retain the seat for Chief Justice of the State Supreme Court.
Consider that said about Justice G. Barry too. There's some 'splainin' to do….
(cross posted at MnProgressiveProject.com; comments welcome there)