"Let's Do The Time Warp Again!"
The call went out, to far and wide (even Facebook!) for The WingNut Faithful to gather at a bar in Arden Hills (where presumably, they didn't have to tip because Waitrons make $100,000 a year! for a special, heart-searching event: "MnGOP Panel: Where Do We Go From Here? – What went wrong in 2012, and moving forward in 2013″
And what a panel it was! "Moderated" by EXTREME right wingers Mitch Berg and Jeff Johnson, Senator Dave Thompson, Walter Hudson, Andy Parrish, Sarah Janecek, Dan "Dac" Severson, Marianne Stebbins and Mark Westphal were the main draws!
I didn't go; watching the action on Twitter Hashtags #wdwgfh & #MnGOP13) was entertainment enough for yours truly, the ol' TwoPutter!
And clearly, these assembled party faithful have not a clue.
Which, for a Progressive, is GREAT news! But, the best news, is the apparent formation of a "Draft Emmer" clown car – here's the tweet that clued me in!!!

.
.
.
.
.
And here's the photo in that tweet!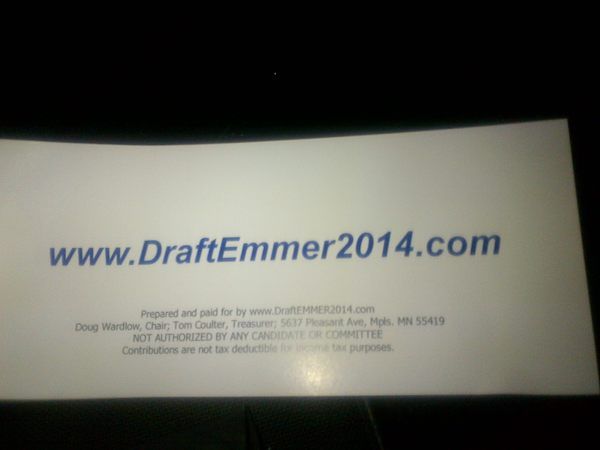 YES!!! That's THE ticket!!!
Dear Tom Emmer – I hear Brad Biers is available! Of course, that might get Brad in a little hot water with his boss….
In all seriousness, I didn't catch a tweet that got to the nub of what is wrong with today's scandal-plagued Mn GOP; especially how you couldn't trust the GOP then, you still can't now, and tomorrow won't be any different – "right", Senator Hann?
For those that are interested in what's REALLY wrong with today's GOP, Hamline Professor David Schultz recently penned "The Moral Crisis of the Republican Party". I highly recommend those reading this, read it.
Obviously, those in attendence last night hadn't.
Here's an example of the candidacy of Tom Emmer in 2010, and why those GOPers that are electable are not endorsable (and those GOPers endorsable are not electable) in today's MnGOP – via YouTube:
(cross posted at MnProgressiveProject; comments welcome there)