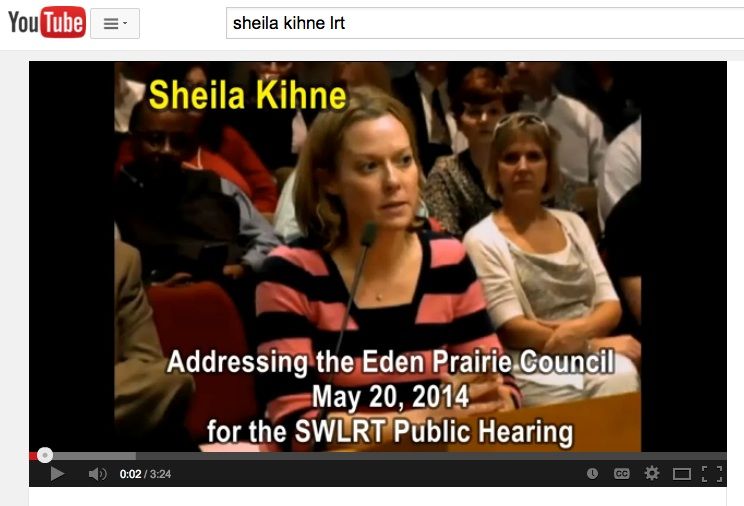 Last night was Primary Night in Minnesota, and far-right extremist Sheila Kihne lost her challenge to unseat an incumbent Republican State Representative. Ms. Kihne more than just derailed her Tea Party Express candidacy; she got trounced by 20 points. Yes, TWENTY POINTS.
In a last minute surprise for the B side of the Mn Senate District 48 Republican Convention, Kihne announced her challenge to incumbent State Rep Jenifer Loon on convention day last March. Kihne led in each and every round of endorsement balloting. After the fifth and final round, Kihne led 54% to 40% but did not reach the 60% threshold for endorsement.
That such a deeply flawed candidate could not only deny endorsement but almost win it herself at that Convention only shows how far right the Republican activists in Eden Prairie are. Much has been written on Kihne's flaws. There's no point in rehashing them here, or going into new ones that would have been brought up had won Kihne won. Sheila, as they say in the political world, is an opposition researcher's dream come true.
However, one that didn't come up is worth noting. It's a YouTube posted under the "Sheila Kihne For State Rep" account and perhaps most clearly demonstrates her greatest flaw. You can watch the whole thing if you want to but what's important is right there in her opening words.
(direct link to YouTube here)
"Madam Mayor, you said we were to stick to design, but the fact is this is a municipal consent hearing."
Yep – Sheila starts out by stating she knows she's out of order. Does knowing she's out of order stop Kihne from tilting at her windmill du jour? Of course not. At a hearing to discuss design, Sheila wants to fight battles already lost. She knew the battle was lost; she even predicted the count on the soon to be held vote: 4 aye and 1 nay. She said her piece anyway and she's so proud of being out of order that she posts it on YouTube.
That's the Sheila that Eden Prairie has come to know and voted against in the Primary held last night. I'd venture to guess the only reason Sheila wasn't ruled out of order when she started out by saying she was out of order is no one really wanted to hear the tantrum she'd surely throw if she was ruled out of order even though she already knew she was. Better to listen to a minor rant now than give her a cause for a bigger rant later ("they tried to SHUT ME UP – BUT I WON'T BE!") is my best guess on why Sheila was allowed to continue.
When it comes to Sheila it's all about Sheila and the windmills she wants to tilt – order be damned. That's the way Sheila is, the way Sheila is came out during the campaign, the way Sheila is is the reason Sheila lost.
(Screenshot, above: Kihne's Youtube, captured 13 August 2014)