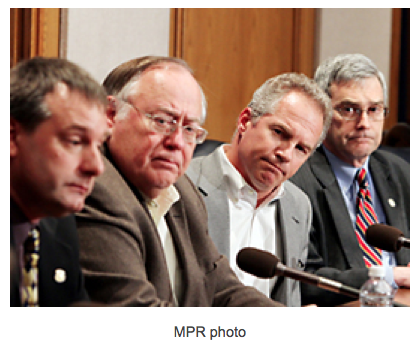 The scandal plagued Republican State Senator from Eden Prairie, David Hann, was elected by his fellow Senate Republicans to lead their Caucus as Minority Leader. No surprise there! Beginning in January 2011, when the Senate Republicans took over, it has been scandal after scandal after scandal by these Republican scoundrels.
The latest scandal coming from these State Senate Republicans has to do with their newly elected leader, David Hann, and it has to do with a conflict of interest and his perceived cover up of it. Boiled down, it is in essence: who does Hann work for, what does Hann do, and when did Hann start doing it?
And Hann ducked the only major news outlet in the Metro – Tom Lyden of Fox9 News – that picked up on this scandal. To be fair, MinnPost picked up on Fox9 picking the story up. Everybody else? Cue the crickets!
Now, when Hann's fellow campers in the scandal plagued Republican Senate Caucus elected him, they also sent out a Press Release describing Hann as follows:
"Senator Hann was elected to his fourth term in the Senate earlier this week. He was first elected in 2002. Prior to his service in the Senate, Hann was elected three times to the Eden Prairie School board where he served as clerk and treasurer. He was also employed at E. A. Sween Co. (Deli Express) for 22 years, where he served in several capacities including Director of Forecasting and Logistics."
What we've found since the Hann Scandal first broke is that Hann is now a licensed insurance agent, works for an insurance company (Boys And Tyler), and serves on the Board of Directors of an insurance industry trade group (Minnesota Association of Health Underwriters).
To no surprise, no mention of what has come to light about Hann (not the industry, nor the company, nor his job, nor his trade association position), in the Senate Republican Caucus' press release, announcing and describing their newly elected fearless leader's new job – Minority Leader.
During his recent campaign, David Hann clearly demonstrated he did not believe the public deserved to know his source of employment. Based on the press release by the Republican Senate Caucus he now leads, they don't think so either.
***
Photo Credit to Minnesota Public Radio for the image above – which pictures the so-called Gang Of Four at the infamous December 2011 Press Conference.
Previous coverage of Hann's ongoing scandal follows:
"Republicans pick the most corrupt Senator to lead them, David Hann" — Friday, November 9th, 2012
"More Questions For The List Of Questions David Hann Hasn't Answered" — Thursday, November 8th, 2012
"GOP State Senator David Hann Endorsed For Re-Election – By His Boss" — Tuesday, October 30th, 2012
"BREAKING: David Hann On Board Of Directors For Trade Association He Oversees — Monday, October 29th
"BREAKING: David Hann Scrubs His Website, or: "Let The WhiteWash Begin!" — 9:35 pm, Friday, October 26th
"TV station sees conflict of interest for Sen. Hann, others" — 2:12pm, Friday, October 26th
"Fox9 News Scandal Coverage: "What does Sen. David Hann do for a living?" — 10:41am, Friday, October 26th
"What does Sen. David Hann do for a living?" — 7:55pm, Thursday October 25th
"When is a Conflict of Interest, a Conflict of Interest? You Decide." — Thursday, October 25th, 2012
"Conflict of Interest? David Hann, GOP Health Insurance Salesman" — 5:00am, Thursday October 25th, 2012
*** related, but not directly:
"Minnesota Senate Republicans Are Out Of Control" — Friday, November 2nd, 2012
"Brodkorb Fallout: Consider The Source" — Monday, October 15th, 2012
(cross posted at MnProgressiveProject; comments welcome there)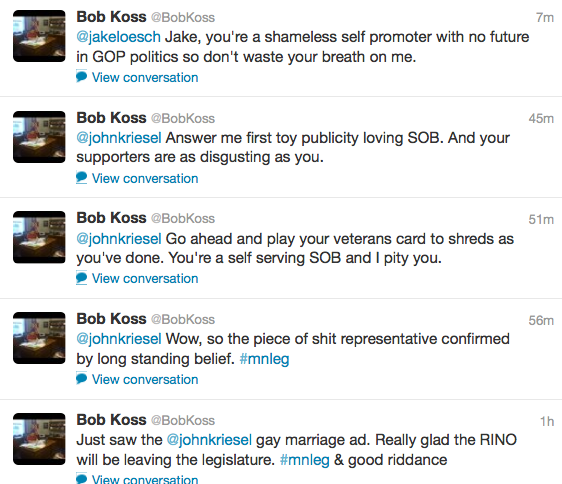 Well, and out of touch, too.
That screen shot, to the "far right" (pun intended)? Those are tweets that were fired off last night by Bob Koss – who bills himself as, and this is a quote: "Free thinking conservative. Proud staffer at the Minnesota Senate Republican Caucus." Koss is a Legislative Assistant for Joe Gimse.
The target of Koss' tirade? Republican State Representative John Kriesel, an Iraq War Veteran. Rep. Kriesel's offense, to "earn" comments such as "RINO" & "Piece of (stuff)" & "SOB" & "shameless self promoter"?
Kriesel had the audacity to speak his mind on the floor of the House of Representatives and then allow that speech to be included in a television ad advocating a "No" vote on the marriage restriction constitutional amendment.
Predictably, the media picked up on Koss' WAY out of line attack; KSTP TV reported on it this morning – "Twitter War Breaks Out Between Rep. Kriesel, Staffer Koss" – and City Pages not only wrote about it; they have screen shots of the entire exchange.
This so-called "twitter war" is simply the latest example of an out of control Republican Senate Caucus.
And where are the Republican Senators? Senate Majority "Leader" Dave Senjem, R-Rochester, is in Rochester trying to save his political skin. Asistant Majority "Leader" David Hann, R-Eden Prairie (the alleged co-chair of the Republican Senate Re-Election effort) is, well, who knows where? He's been ducking the press ever since Fox9 TV ran a story: "What Does Hann Do For A Living?".
As far as I can tell, it's understandable the Senate Republican Caucus' Communications "Director" – Steve Sviggum – couldn't jump into the fray and stop Koss, a caucus staffer, from committing poltical hari kari on twitter last night – because as far as I can tell, Sviggum – the Communications "Director" – isn't even ON twitter.
It's an insult to clown cars to call the scandal plagued Senate Republican Caucus a "clown car."
Hopefully next Wednesday, they WILL be called "the MINORITY Republican Senate Caucus."
(cross posted at MnProgressiveProject.com; comments welcome there)
With the DFL House Members now the Minority, some very good staffers were going to have to be let go – that's the way it works and there's nothing that can be done about it. Under the new leadership of Rep. Paul Thissen, the new staff leadership has been set.
And it's a good one!
Before I talk about that, I'd like to express appreciation for the job that those that got let go due to the simple numbers game – in the minority status, there's simply less jobs. Particularly, the loss of Andrew Wittenborg will be felt. That said, elections have consequences, and this last election resulted in severe consequences.
As I read the tea leaves, the additions of Zach Rodvold as Director of Legislative and Caucus Services and Carrie Lucking as Director of Public Affairs is a strong sign electoral politics is going to play a larger part in DFL House operations. And hey – it SHOULD play a larger part – when the GOP sticks Michael Brodkorb smack-dab at the top of their Senate Caucus staff, the reality is that fire must be fought with fire. The DFL House and Senate Caucus staffs have always – ALWAYS – primarily focused on policy first, while the GOP House and Senae Staffs seem to have always focused primarily on politics first. While those primary focuses unlikely to change (especially on the GOPer side of the aisle) bringing in Rodvold and Lucking shows a new commitment to electioneering.
I hope the GOP and their staffers enjoy their new digs in the Majority offices at the Capitol; these new hires indicate their stay in 'em will be short-lived.
Rodvold was a key player in Amy Klobuchar's 2006 campaign; Lucking did a fantastic job on Team Thissen during his run for governor. Both worked on Tarryl Clark's campaign. These two are seasoned pros that know electoral politics. While some might quibble that Tarryl's campaign didn't turn out quite as we'd like it, the fact remains that you can learn a lot in an unsuccessful campaign. And let's be real – if Jesus H. Christ ran as a DFLer against Bachmann this last election, He'd be tarred as a "tax & spend, liberal/leftist/socialist" and lose, too.
Of all the gubernatorial candidates with hats in the ring for the top spot on the ticket, Team Thissen was a close second to Team Entenza for effective use of social media. Look for the DFL House Caucus to do a much better job in all facets communications. I don't see a "staff shake-up" – I see two additions to staff that bring a lot of talent and experience in areas where talent and experience were lacking. I see this as good news.
FOR IMMEDIATE RELEASE
December 9, 2010
St. Paul, MN

HOUSE DFL CAUCUS ANNOUNCES SENIOR STAFF
Staff brings extensive experience both inside and outside the Capitol

The Minnesota House of Representatives DFL Caucus today announced their senior staff for the upcoming Legislative session. The Caucus staff includes individuals with solid experience both inside and outside the Capitol.

Veteran DFL legislative strategist Mike Charboneau will serve in the role of Executive Director of Caucus Operations, pearheading legislative and floor strategy for the Caucus. Kate Perushek, who previously worked for Representative Paul Thissen on the Health and Human Services Committee, will serve as the Executive Assistant to the Minority Leader. Joanna Dornfeld, previously a Committee Administrator for the House Finance Committee, will now fill the role of Executive Assistant to the Caucus.

In addition, the House DFL Caucus is also turning to new faces who bring significant statewide political experience to the capitol. Zach Rodvold will join the Caucus as Director of Legislative and Caucus Services. Rodvold most recently served as Campaign Manager for Tarryl Clark's race in Minnesota's Sixth
District. Prior to that, Rodvold served as Minnesota State Director for Senator Amy Klobuchar and brings an extensive background in issue advocacy and electoral campaigns.

"I'm excited for this new challenge and I know that I will have to meet a high bar set by my predecessors," said Rodvold. "The House DFL Caucus staff has helped its elected members keep their commitment to Minnesotans by standing up for middle class families, a better future for our children, and an economy
that works for everyone. That work will continue in the next session and I look forward to it."

Rodvold's colleague and former Communications Director for the Clark campaign, Carrie Lucking, will round out the House DFL Caucus Staff as Director of Public Affairs. Lucking also previously worked for Representative Thissen, serving as Communications Director for his gubernatorial campaign, and is a licensed teacher.

"I am glad to support the members of the House DFL Caucus in standing up for middle class families by joining their fantastic team," Lucking said.

Regarding the hires, Representative Paul Thissen said, "I want to express deep thanks to all the wonderful people who have served our caucus and Minnesota well over the past years. With these hires, the House DFL Caucus will continue our tradition of bringing together an effective, efficient, and experienced staff that will help us best represent Minnesotans. I am thrilled that the Caucus is adding new faces to our already strong team and look forward to working together on behalf of all Minnesotans in the upcoming session."

Rodvold and Lucking officially begin work on January 4th but will spend time in December transitioning into their new roles.

###
(cross posted from MnProgressiveProject.com; comments welcome there)