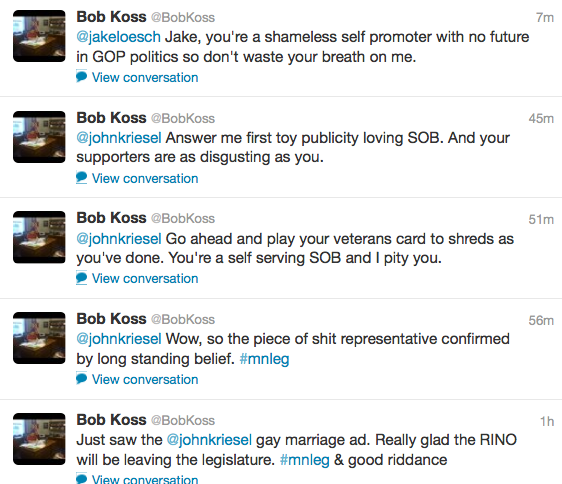 Well, and out of touch, too.
That screen shot, to the "far right" (pun intended)? Those are tweets that were fired off last night by Bob Koss – who bills himself as, and this is a quote: "Free thinking conservative. Proud staffer at the Minnesota Senate Republican Caucus." Koss is a Legislative Assistant for Joe Gimse.
The target of Koss' tirade? Republican State Representative John Kriesel, an Iraq War Veteran. Rep. Kriesel's offense, to "earn" comments such as "RINO" & "Piece of (stuff)" & "SOB" & "shameless self promoter"?
Kriesel had the audacity to speak his mind on the floor of the House of Representatives and then allow that speech to be included in a television ad advocating a "No" vote on the marriage restriction constitutional amendment.
Predictably, the media picked up on Koss' WAY out of line attack; KSTP TV reported on it this morning – "Twitter War Breaks Out Between Rep. Kriesel, Staffer Koss" – and City Pages not only wrote about it; they have screen shots of the entire exchange.
This so-called "twitter war" is simply the latest example of an out of control Republican Senate Caucus.
And where are the Republican Senators? Senate Majority "Leader" Dave Senjem, R-Rochester, is in Rochester trying to save his political skin. Asistant Majority "Leader" David Hann, R-Eden Prairie (the alleged co-chair of the Republican Senate Re-Election effort) is, well, who knows where? He's been ducking the press ever since Fox9 TV ran a story: "What Does Hann Do For A Living?".
As far as I can tell, it's understandable the Senate Republican Caucus' Communications "Director" – Steve Sviggum – couldn't jump into the fray and stop Koss, a caucus staffer, from committing poltical hari kari on twitter last night – because as far as I can tell, Sviggum – the Communications "Director" – isn't even ON twitter.
It's an insult to clown cars to call the scandal plagued Senate Republican Caucus a "clown car."
Hopefully next Wednesday, they WILL be called "the MINORITY Republican Senate Caucus."
(cross posted at MnProgressiveProject.com; comments welcome there)