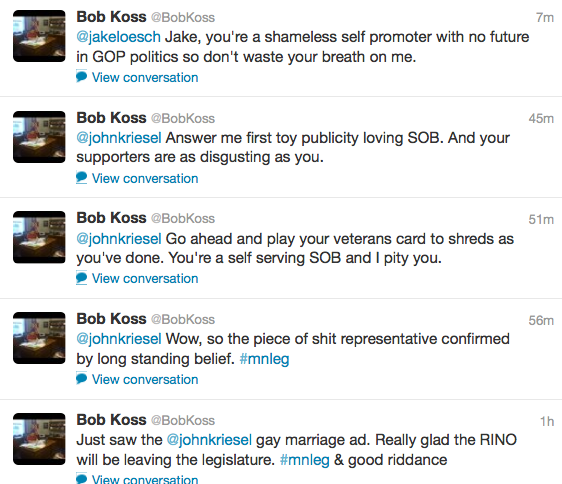 Well, and out of touch, too.
That screen shot, to the "far right" (pun intended)? Those are tweets that were fired off last night by Bob Koss – who bills himself as, and this is a quote: "Free thinking conservative. Proud staffer at the Minnesota Senate Republican Caucus." Koss is a Legislative Assistant for Joe Gimse.
The target of Koss' tirade? Republican State Representative John Kriesel, an Iraq War Veteran. Rep. Kriesel's offense, to "earn" comments such as "RINO" & "Piece of (stuff)" & "SOB" & "shameless self promoter"?
Kriesel had the audacity to speak his mind on the floor of the House of Representatives and then allow that speech to be included in a television ad advocating a "No" vote on the marriage restriction constitutional amendment.
Predictably, the media picked up on Koss' WAY out of line attack; KSTP TV reported on it this morning – "Twitter War Breaks Out Between Rep. Kriesel, Staffer Koss" – and City Pages not only wrote about it; they have screen shots of the entire exchange.
This so-called "twitter war" is simply the latest example of an out of control Republican Senate Caucus.
And where are the Republican Senators? Senate Majority "Leader" Dave Senjem, R-Rochester, is in Rochester trying to save his political skin. Asistant Majority "Leader" David Hann, R-Eden Prairie (the alleged co-chair of the Republican Senate Re-Election effort) is, well, who knows where? He's been ducking the press ever since Fox9 TV ran a story: "What Does Hann Do For A Living?".
As far as I can tell, it's understandable the Senate Republican Caucus' Communications "Director" – Steve Sviggum – couldn't jump into the fray and stop Koss, a caucus staffer, from committing poltical hari kari on twitter last night – because as far as I can tell, Sviggum – the Communications "Director" – isn't even ON twitter.
It's an insult to clown cars to call the scandal plagued Senate Republican Caucus a "clown car."
Hopefully next Wednesday, they WILL be called "the MINORITY Republican Senate Caucus."
(cross posted at MnProgressiveProject.com; comments welcome there)
Last weekend, Brian hosted a One Day United For All House Party to defeat the ugly, hateful and bigoted marriage discrimination constitutional amendment GOPers stuck on the ballot next November.
Today State Rep Steve Simon endorsed Brian Barnes to defeat Erik Paulsen for Congress in Minnesota's 3rd District. This is a BIG endorsement for several reasons – and one has to do with equal rights/equality under the law, which is why I started this post reminding about that House Party hosted by Brian a week ago.
Steve Simon made national news for his comments about the GOP's bigoted constitutional amendment – the YouTube of those comments is currently over 540,000 views. Let's look!!
Erik Paulsen tries to avoid news about where he stands on the issues – especially this one. But he's not afraid to go behind closed doors to take a "Friend of the Family" "award" not too long ago from Jack Abramoff's old pal, Ralph Reed.
Let's be clear on where Paulsen stands — he's a "friend" of SOME families, and NOT those families with LBGT family members.
The contrast cannot be clearer: Brian Barnes and Steve Simon standing for ALL families; Erik Paulsen and Ralph Reed standing for SOME families.
Compete text of Rep Steve Simon's endorsement letter follows:
# # #
Dear Friends,

It's a great honor for me to write to you today about my friend Brian Barnes, who's running for Congress against Republican Erik Paulsen.

Brian's a great Democrat. He's someone I've always been able to count on and he's always been there for our party. In good times and bad, Brian has stood with Democrats throughout the West Metro.

He's also a great progressive. While Washington Republicans do their best to roll back half a century of progress, Brian hasn't backed away from standing up for the values that make America great.

You can trust Brian to stand up for the Middle Class, for marriage equality, and for a tax code that rewards hard work instead of those who can afford the best accountants.

Brian's running a great campaign based on the issues that matter most.

He's the best choice among the candidates running in the 3rd Congressional District.

Please visit Brian's website today to find out how you can help.

Thanks for all you do. Together, Democrats will win in 2012.

Sincerely,

State Rep. Steve Simon
# # #
(cross posted at MnProgressiveProject; comments welcome there)
"(H)ow many more gay people does God have to create before we ask ourselves whether or not God actually wants them around?" — Mn State Rep. Steve Simon, DFL-St. Louis Park
That quote by Rep Simon is literally going around the world. As of this posting the following YouTube has gone viral, and been seen 170,938 times.
The best story (IMNSHO) about Rep. Simon's comments is from a Star Tribune Editorial Writer, John Rash. From it:
With all the action, breaking through the capitol cacophony – let alone the cultural clutter in today's media – is rare. When it does happen, it's all too often due to a legislator saying something inflammatory, or inane, or both.

Yet in a measured, calm tone, testimony from Rep. Steve Simon, DFL-St. Louis Park, about a constitutional amendment to ban gay marriage in Minnesota, has made a splash nationally.
,
,
,
Which goes to show that even in today's showboat society a quietly expressed idea can still make meaningful noise.
Indeed. And once again, from that "noise" –
"(H)ow many more gay people does God have to create before we ask ourselves whether or not God actually wants them around?" — Mn State Rep. Steve Simon, DFL-St. Louis Park
(crossposted at MnProgresiveProject.com; comments welcome there)