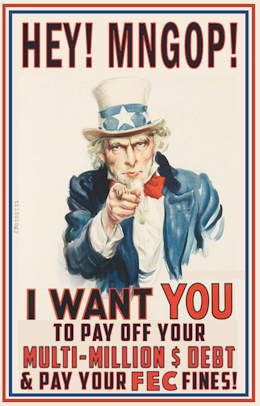 When we last left off in this continuing Cooked Books series, The Party Of Fiscal Irresponsibility had just turned down an offer to pay for a forensic audit of their books.
Seriously.
The "Offer" and "Offer Withdrawn" of an audit that wouldn't cost the Book Cookers a penny came after – AFTER – Minnesota Campaign Finance Board's blistering "Findings and Order in the Matter of the Complaint of Common Cause Minnesota regarding the Republican Party of Minnesota and others", dated 13 July 2012.
From those findings:
To summarize, in 2010 the RPM had a finance director, who was recently promoted from telemarketing and who testified that he knew next to nothing about Campaign Finance Board reports and professed that it was not his job to review the reports in preparation for the treasurer's signing them. The RPM had a chair who was busy with fundraising and his own business and believed that the finance director and the party unit's compliance company were responsible for preparation of the reports. The RPM had a compliance company that disavows any responsibility for campaign finance reports other than to put data into a system and print out the reports. And finally, the RPM had a treasurer who placed all of his reliance on these three individuals. Given that situation, it is no surprise that the RPM reports were inaccurate.
Yep! No surprise!!!