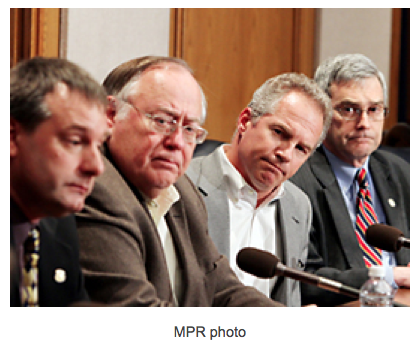 GOP Senator Hann's problems started with his involvement in The Gang Of Four; which is a scandal because four Republican State Senators called the media to attend a press conference in December of 2011, smiled at the camera — and one of them, for sure, proceeded to lie through his teeth. As of this date, we don't know what Hann knew, when he knew it, nor what his role in this scandal is – and he ain't talking.
We're going to skip over Hann's role in the infamous Lunch Hour Lit Drop scandal; suffice it to say that Hann was co-chair of the GOP Senate Caucus re-election effort. If Hann didn't know what was happening, he should have. See MnGOP State Senate: "…we are in this together…" and MnGOP State Senate: We Are In This Together Part 2.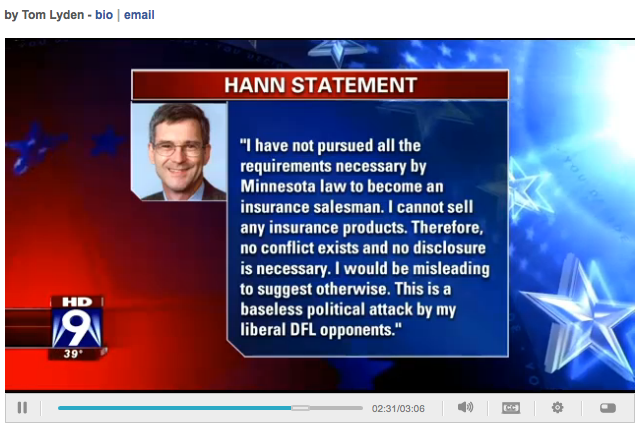 We'll skip to late last month, when the story broke about Hann's apparent concealment of who he works for/what he does. What we know is Hann has a license to sell insurance and works for a company that sells insurance – Boys & Tyler Financial. Fox9 covered this story; that's where the image to the right came from. It's a statement Hann sent Fox9; Hann says was "too busy campaigning" to talk to the reporter. Hann's been ducking reporters ever since.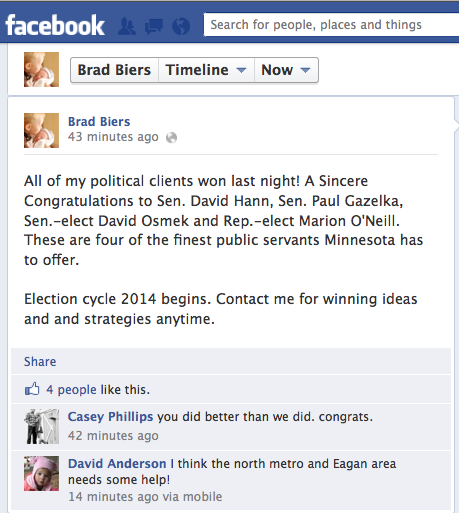 And here's something David Hann is probably NOT going to want to talk about either. That facebook image, to the right? That's Brad Biers' page. Who is Brad Biers? According to the State Senate HHS website, Biers is the HHS Committee Administrator; a Committee David Hann Chairs. And what does Biers say, in his facebook post?
"All of my political clients won last night! A Sincere Congratulations to Sen. David Hann, Sen. Paul Gazelka, Sen.-elect David Osmek and Rep.-elect Marion O'Neill. These are four of the finest public servants Minnesota has to offer.
Election cycle 2014 begins. Contact me for winning ideas and and strategies anytime."
RuhRoh… Committee Chair David Hann's Committee Administrator has David Hann as a political client???
Off to google, where we find Biers is a partner in a company called "Capitol Communications".
Now we have a name, so it's off to the Campaign Finance Board to check Hann's Campaign's reports. And we do indeed find an expenditure to Capitol Communications.
OK, now we have an address, so let's look it up! What do we find? It's owned by Brad Biers.
No doubt about it: a State Senate Staffer – Brad Biers, wages paid by taxpayers – is also doing political work for not only his State Senate Boss, David Hann – he's also done it for three other elected officials and he's looking for more.
And not only is he looking for more, he's looking for more at "anytime." Let's look at that facebook post, again:
Election cycle 2014 begins. Contact me for winning ideas and and strategies anytime.
Including the time he's supposed to be doing the taxpayer's work??!?
Ladies and Gentlemen, that reeks. Don't know if it's illegal, or if it's against Senate Rules, but I intend to find out.
In the meantime, in addition to all the unanswered questions Hann has regarding his role in The Gang Of Four, The Lunch Hour Lit Drop, his conflict of interest with regards to what he does for a living, Hann can now add the work his staffer did to the list.
Stay tuned!
(cross posted at MnProgressiveProject.com; comments welcome there)
In their continuing quest to protect their Boardroom Base at the expense of everyone else in the entire state, GOPer State Senator Paul Gazelka from Brainerd introduced what was handed to him Senate File 812, which seeks to cut the pay of everybody – and I mean EVERYBODY that receives a state paycheck. Here's how the bill starts; full photo below:
The salaries of all employees in the executive branch, the judicial branch, and the legislative branch are decreased by six percent. The salaries of the governor and all constitutional officers, legislators, and judges, except as prohibited by the Minnesota Constitution, article section 5, are decreased by six percent.
And GOPers WOULD whack every State Employee's pay, including employees of the University of Minnesota – except apparently, they can't. Presumably, if they could, they would – otherwise, why would they just "encourage" #UMN to do so? Here's the last line in Section 1:
The University of Minnesota is strongly encouraged to comply with this section as if it were subject to it.
Today, GOPers are "encouraging" all #UMN employees take a hit; down the road, if they can figure out a way, it's safe to assume they'll enforce the hit.
Why are Government Employees on the GOPer's hit list? IMNSHO, it's this: today's GOP refuses to raise income taxes on the wealthiest Minnesotans – their Boardroom Base. The GOP's Boardroom Base does NOT pay the same effective tax rate as the rest of us do – and to the GOP, that's just swell.
I've said it before, and I'll say it again: today's GOP is protecting their Boardroom Base at the expense of everyone. Well, at the expense of everyone they can…
And if they figure out how, #UMN employees are next on the GOP hit parade.

S.F. No. 812, as introduced – 87th Legislative Session (2011-2012) Posted on Mar 14, 2011
(cross posted at MnProgressiveProject.com; comments welcome there)