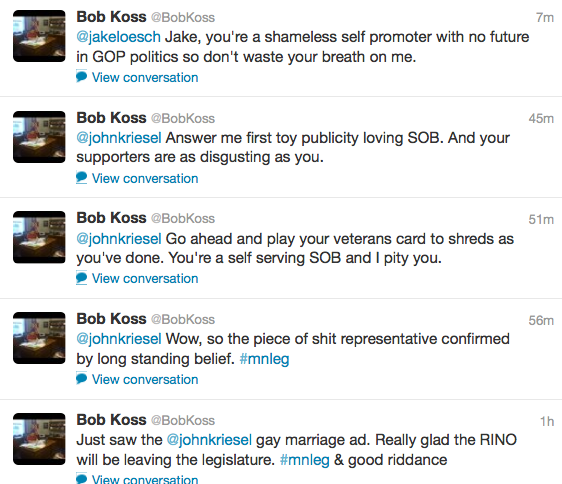 Well, and out of touch, too.
That screen shot, to the "far right" (pun intended)? Those are tweets that were fired off last night by Bob Koss – who bills himself as, and this is a quote: "Free thinking conservative. Proud staffer at the Minnesota Senate Republican Caucus." Koss is a Legislative Assistant for Joe Gimse.
The target of Koss' tirade? Republican State Representative John Kriesel, an Iraq War Veteran. Rep. Kriesel's offense, to "earn" comments such as "RINO" & "Piece of (stuff)" & "SOB" & "shameless self promoter"?
Kriesel had the audacity to speak his mind on the floor of the House of Representatives and then allow that speech to be included in a television ad advocating a "No" vote on the marriage restriction constitutional amendment.
Predictably, the media picked up on Koss' WAY out of line attack; KSTP TV reported on it this morning – "Twitter War Breaks Out Between Rep. Kriesel, Staffer Koss" – and City Pages not only wrote about it; they have screen shots of the entire exchange.
This so-called "twitter war" is simply the latest example of an out of control Republican Senate Caucus.
And where are the Republican Senators? Senate Majority "Leader" Dave Senjem, R-Rochester, is in Rochester trying to save his political skin. Asistant Majority "Leader" David Hann, R-Eden Prairie (the alleged co-chair of the Republican Senate Re-Election effort) is, well, who knows where? He's been ducking the press ever since Fox9 TV ran a story: "What Does Hann Do For A Living?".
As far as I can tell, it's understandable the Senate Republican Caucus' Communications "Director" – Steve Sviggum – couldn't jump into the fray and stop Koss, a caucus staffer, from committing poltical hari kari on twitter last night – because as far as I can tell, Sviggum – the Communications "Director" – isn't even ON twitter.
It's an insult to clown cars to call the scandal plagued Senate Republican Caucus a "clown car."
Hopefully next Wednesday, they WILL be called "the MINORITY Republican Senate Caucus."
(cross posted at MnProgressiveProject.com; comments welcome there)
Whilst watching the tweets on #MNCaucus results, this one caught my eye:
That, Ladies and Gents, is a Tweet from the Independence Party Of Minnesota, the Party that (for now) has Major Party status.
Overwhelmingly, Democrats in Minnesota oppose the GreedOverPrinciples Party's bigoted and hateful proposal to amend Minnesota's Constitution by restricting the rights of our LGBT Brothers and Sisters. Specifically, they want to deny the right of our LGBT Sisters and Brothers to marry, thereby insuring Minnesota stays a state where marriage is an institution of "One Man And One Woman (at a time)."
And according to that tweet from the Independence Party, they reject Republican bigotry and hate, too.
Add into that Ron Paul's strong showing in Minnesota last night, and it looks like Minnesota may be the very first state to reject an anti-LGBT amendment to a State Constitution!
To ensure defeat, there's a lot of work to be done. Fortunately, Minnesotans United For ALL Families is out there working hard – I saw 'em at my Caucus Precinct last night, and was told they were all over this great state.
Go show 'em some love, would ya? When I pledge allegiance to the flag, it ends: "…with Liberty and Justice for all."
Yes, "all" - which includes my LGBT Brothers and Sisters.
Yours, too.
(cross posted at MnProgressiveProject; comments welcome there)
On October 16th, I asked several fellow veterans about a comment the Republican Candidate for Governor in Minnesota – Tom Emmer – said to the Marshall Independent newspaper on 9/26/09. That quote by Emmer – "I don't believe you can be a freedom-loving American and be a Democrat" was not widely reported in the allegedly "liberal" mainstream media.
This video documents a few Veterans responses to Emmer saying, essentially, that Democrats, even military veterans, can't be real patriots.
I'd like to remind everyone that on 07 April 1775, Samuel Johnson said that "Patriotism is the last refuge of a scoundrel."
On 26 September 2009, Republican Candidate for Governor Tom Emmer demonstrated that he indeed is a scoundrel.
I paid for this with my dime. It's not not approved by any candidate nor is any candidate responsible for it. It's my deal and my deal only. Let's look!
(cross posted from MnProgressiveProject.com, please post comments there)